Speak to a Tax Relief Expert Now
Check Your Eligibility for Tax Settlement Today!
FREE CONSULTATION & NO OBLIGATION
Your information is protected & safe with us
We're a Nationwide Service for All 50 States
YOU MAY QUALIFY TO SUBSTANTIALLY LOWER YOUR TAX DEBT
Tax Resolution Practice Areas
One of our tax experts will call you to get the details of your situation and discuss your options. Most lawyers charge $250/hour or more for this call… but we offer it FREE.
The first thing we can do is file a "Stay of Enforcement" which blocks the IRS from seizing your bank account or assets like a home. This protects you instantly.
We look at all the angles and figure out how to save you as much money as possible. It's about what we know and who we know that can get you a favorable settlement.
You may save tens of thousands of dollars and say goodbye to tax worries and hello to a fresh start.
We Love Helping Everyday Americans
Your Tax Resolution Case Review is Fast, Free and Confidential
Call for immediate assistance: 855-287-7830
We're Ready to Settle Your Tax Debt! Are You?
We are here to tell you that your tax debt problems can go away with some professional help. The government has created many tax debt relief options for those who can't pay their taxes. We understand the stress and anxiety associated with your tax debt issues and can help you make real progress towards solving your tax problems.
Tax debt relief programs are all based on vast tax laws and court revenue rulings. That is why it is so important to have the most experienced and knowledgeable tax relief attorneys, CPAs and ex-IRS agents on your side to navigate this complex landscape. On average our customer owes the IRS over $10,000 in back taxes and we have been able to rescue thousands of them by helping them pay far less than what they owe.
Our services are affordable and priced to help everyday Americans. A lot of clients that we have helped have been independent contractors, real-estate agents, truck drivers, contractors, Uber drivers, sole proprietors and small business owners. The best part is we know exactly how to make the law work in your favor and we can help you find real tax relief.
Our first goal is always to determine if we can substantially lower your debt obligation by leveraging the law in your favor. In some cases, we can reduce debt owed by tens of thousands of dollars. In addition, we would negotiate directly with the IRS on your behalf, stop levies and garnishments, remove liens, establish non-collectable status, set up partial-pay installments and reduce interest and penalties.
Call to Qualify for Free: 877-503-3014
We Have Many Inroads with the IRS to Help You Out of Tax Debt
The reality is your tax problems are not going away on their own, they are only going to get more legally complicated and you stand to lose all your savings and assets. Start by acknowledging that it may be time to take the first step towards getting professional help and be comforted by knowing there are many solutions that you can leverage with an expert on your side.
Highly qualified tax attorneys, CPA and ex-IRS agents licensed and ready to help.

A commitment that ensures urgency and the highest customer satisfaction rating.

Flexible service plans to get you started depending on your situation.

We can offer a wide range of options tailored to your unique IRS issue.
There is no reason to fear the IRS or be overwhelmed by tax debt, our tax experts work with the IRS on a daily basis and have many inroads to help people like you out of a bad tax debt situation.
Ideal Tax Solution was absolutely wonderful because they helped me tremendously. I would recommend them to anybody that had a life experience that threw them in the wrong direction and tell them to definitely give Ideal Tax Solution a call. I was mainly working with Christopher and Ryan was the gentleman that helped me towards the end after it was resolved.
If you owe $10,000 or more, Ideal Tax Solution will help you out to reduce them and that's what I needed. The agent Nicholdric would keep me updated and if I had any questions, he said to call him at any time. I was pleased with what I had to pay back, which was brought down to $2,700 because it was up like $13,000. I got that paid off and I'm just glad it's done and over with.
Lawrence of Dripping Springs, TX
I was finding a way to resolve my tax debt so I got in touch with Ideal Tax Solution. Their rep, Nathan, was very professional. He asked the right questions and we felt pretty confident just from his expertise that we were listening to. Ideal Tax Solution was successful and it relieved a lot of tax debt. I will always remember them in a positive way and I was completely satisfied with their work. I'd definitely recommend them.
Call to Qualify for Free: 877-503-3014
"After my divorce, I found myself with a mountain of tax debt. The stress was immense. I used our company's services and I have a whole new life now! So not only do I love my career here, I am also a satisfied client."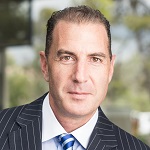 "Rescuing people from the stress of the IRS by giving my clients real hope and a solid plan of attack to ending the cycle of past due taxes is what makes my job rewarding. I consider our clients friends and I treat them as such."
Tax Investigations Director
"My tax team is the best in the business and leaves no stone uncovered to negotiate the absolute best resolution for our clients. I treat my clients with respect, honesty, and integrity."
We Are A BBB Accredited Business
For more than 100 years, the BBB has helped people find and recommend businesses, brands, and charities they trust. The BBB's mission is to be the leader in advancing marketplace trust. Ideal Tax Solution is a BBB accredited business.
Member of the National Association of Tax Professionals
NATP's mission is connecting tax professionals with unmatched education, information and research. NATP's vision is to advance the expertise and success of all tax professionals. NATP is the largest organization dedicated 100% to tax professionals and their success.
Member of the American Bar Association
The American Bar Association Mission's is to serve equally our members, our profession and the public by defending liberty and delivering justice as the national representative of the legal profession.
Consumer Affairs Accredited
ConsumerAffairs is a consumer news and advocacy organization founded in 1998. Their website includes consumer news, recall information and tens of thousands of pages of consumer reviews.
Call to Qualify for Free: 877-503-3014